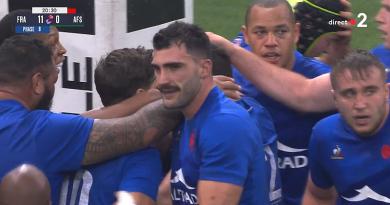 rugby. "France has consolidated its position as favourite", opinion of the foreign pressFollowing their success over South Africa, France have consolidated their position as favorites to be crowned world champions in 2023. At least some of the press thinks so. If the Blues are in a very good dynamic, there is no guarantee that they will go all the way. And they'll lift the Webb Ellis trophy. The title contenders are many and there are many smart enough to name the winning team in the finals to date. However, we're sure there will be disappointments. And that some of the bigger countries won't be able to see the Final Four. And not only in the current situation, the four best in the world rankings will compete in the group stage and then in the quarterfinals. Actually, the Blues and the All Blacks are in the same group. While Ireland will also play against the Springboks from the start of the competition. For Irish Examiner journalist Peter Jackson, the World Cup is already skewed.
In any world team event, the top four players are expected to avoid each other until the semi-finals. Instead, the current four face off in the pool stage and then in the quarter-finals.
We may actually be entitled to a new France/South Africa in less than a year during the quarters. While the All Blacks could find the Irish seeking their revenge. Of course, no one could have predicted the current standings. ,But such a scenario was fueled by the organization's inexplicable decision to base its four seeds on where the last World Cup ended in Japan: 1, South Africa, 2 England, 3 Nova Scotia. Zeeland, 4 Wales", explains the Irish site. According to Jackson, the draw carried out in December 2020 was done with great haste. According to him, we find ourselves with a huge disparity between the chances for the chickens and the bigger nations. jump from roundDelaying the draw could have easily avoided this mess." As FIFA does. The draw for the FIFA World Cup, which starts on November 21, was held in early April, Should we look to football for inspiration for the next edition?